Some of John Dyer's Pix from
Burning Man 2004
Last Edit 9-12-04 More to come as time allows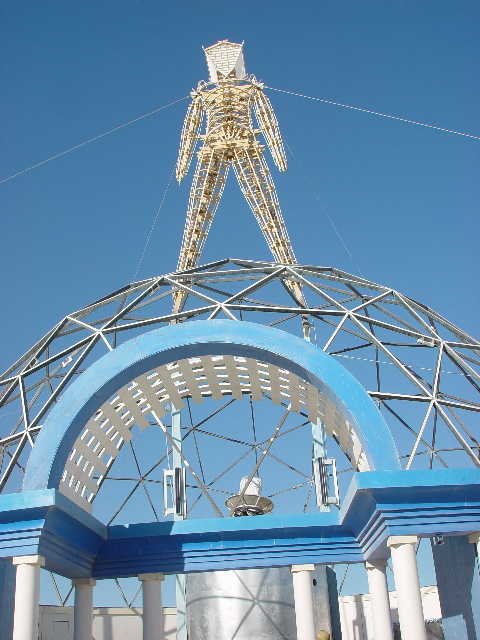 As anyone can see, Tim's STS is giving the Man a photon enema!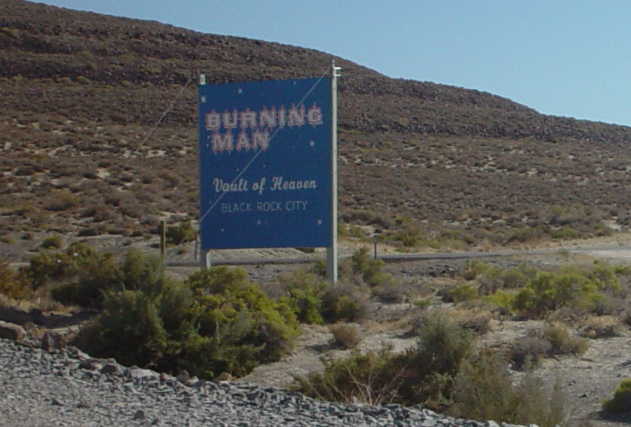 The place where reality began to get dicey.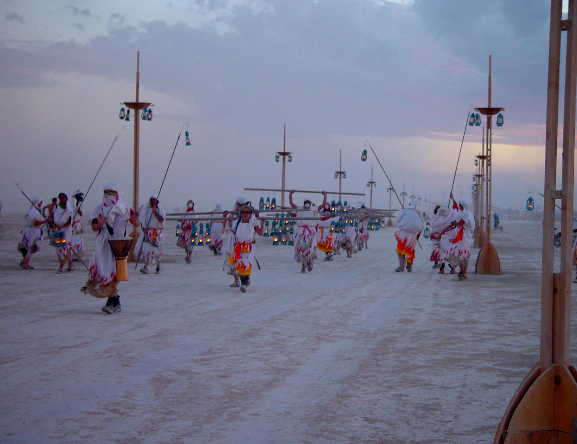 The Lamplighters as they go about their nightly rounds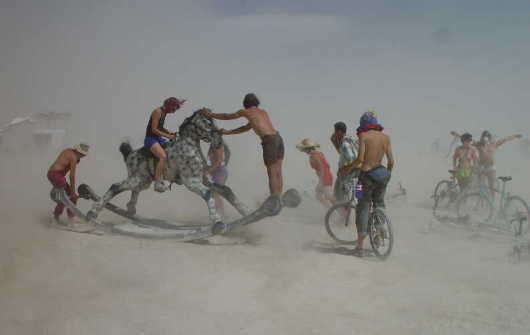 A Safe place for the child within to come out and play.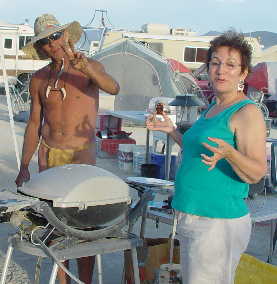 Aunt Flo and XXXX sample dinner.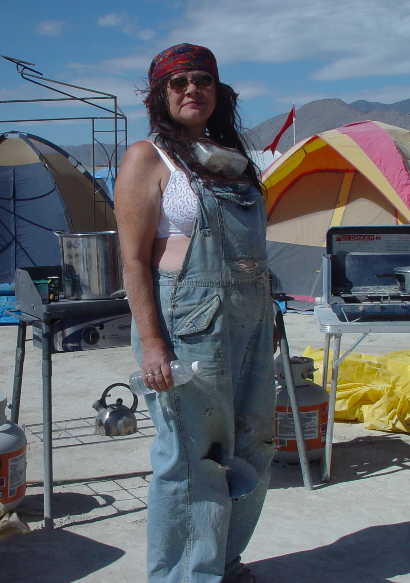 Many pretend to be artists. Foxey is a REAL natural artist.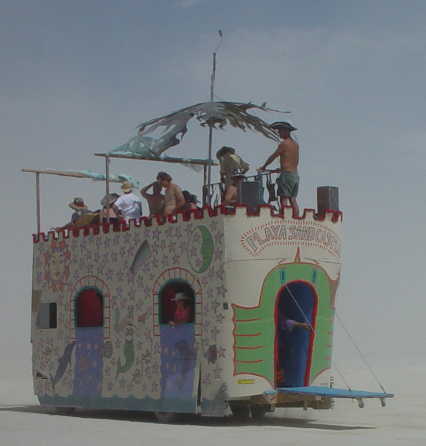 The Playa Sand Castle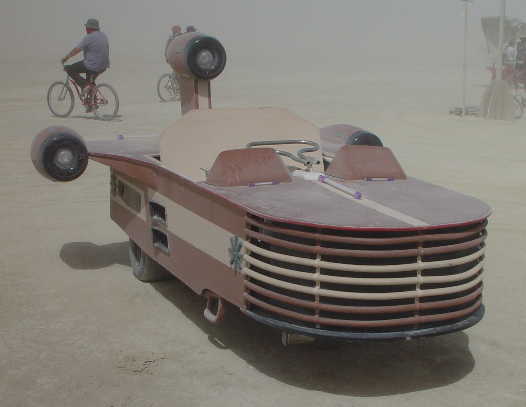 A short voyage star cruiser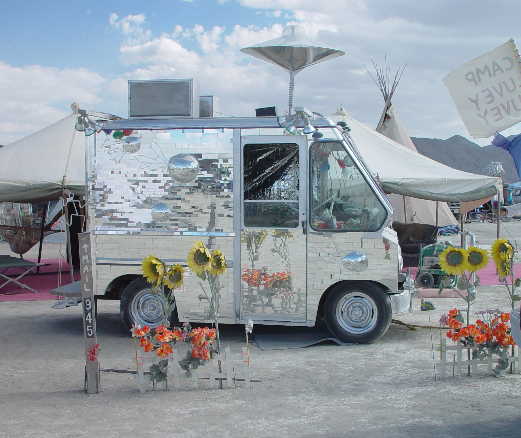 A reflective art piece.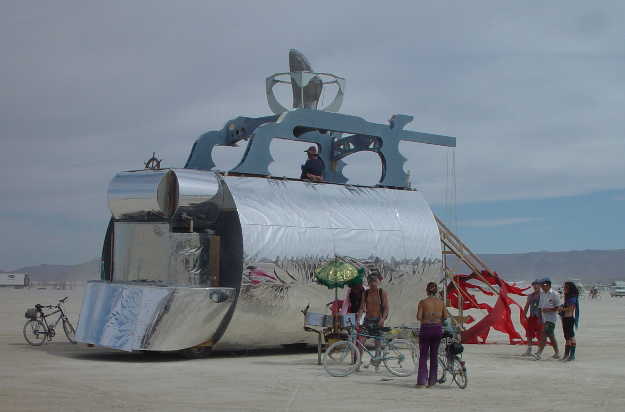 Snow Cones were available up the stairs at the rear.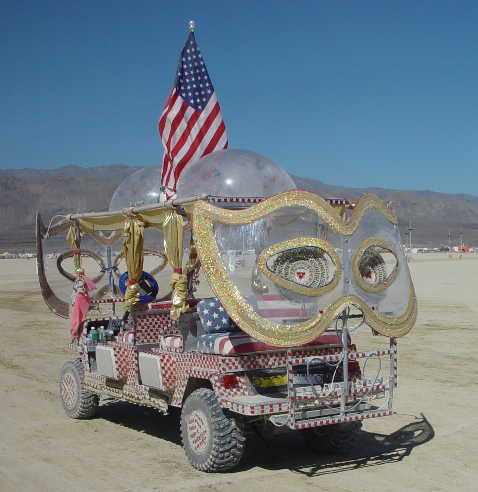 The sound system inside this car was playing "water music" by the Man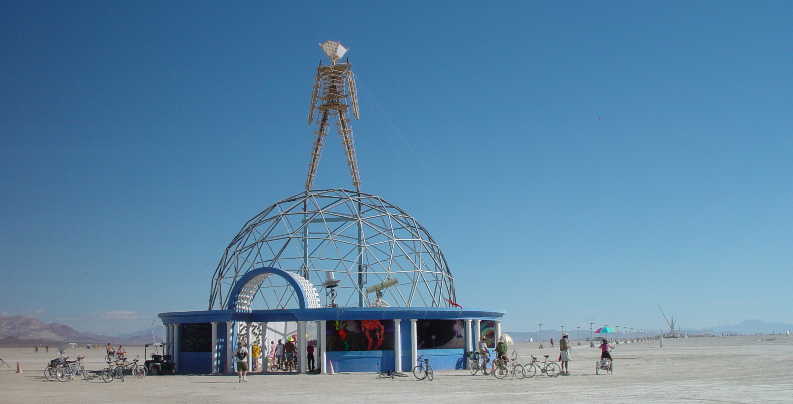 The Man and the Observatory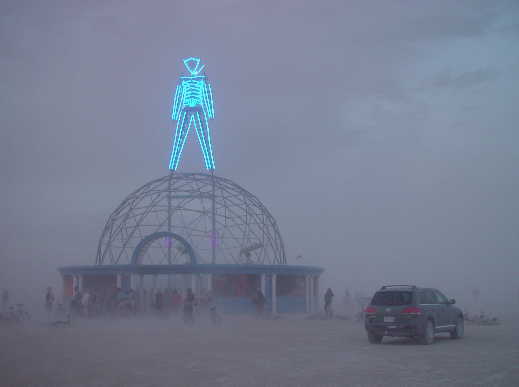 TB Wizard's reserved parking spot...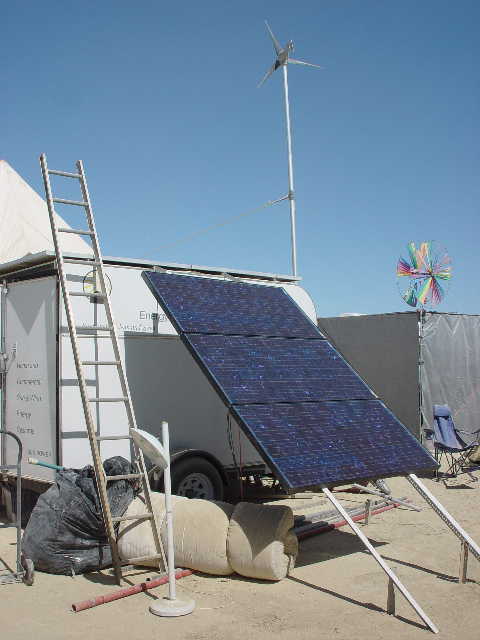 Our new tribe member's Solar and wind array.

The West side of the Tribe Camp

My Traffic Signal, myTesla Coil and my Apollo motor home

The East side of Tribe Camp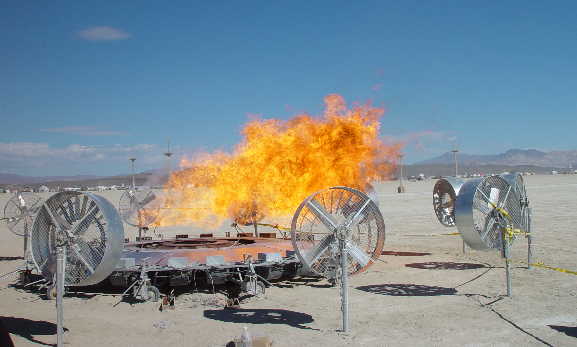 This was the mechanism burning off propane while not turned on.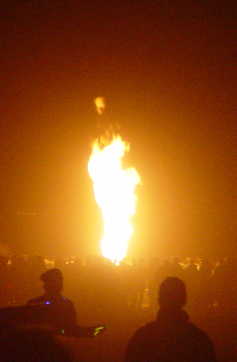 The Vortex as it swirls 75 feet or so into the desert night.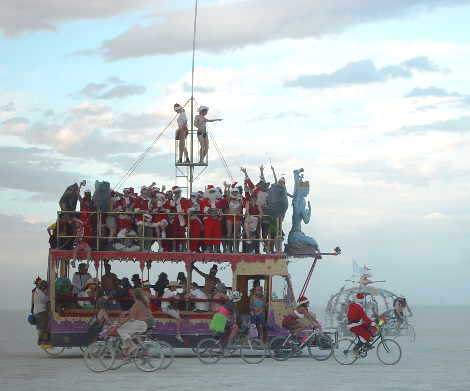 Can you find Jim and Lisa?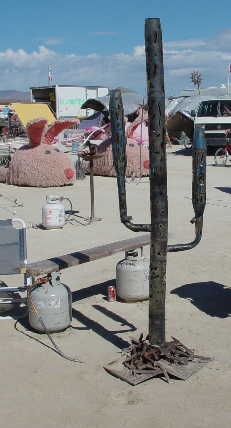 Nice Desert Cactus with propane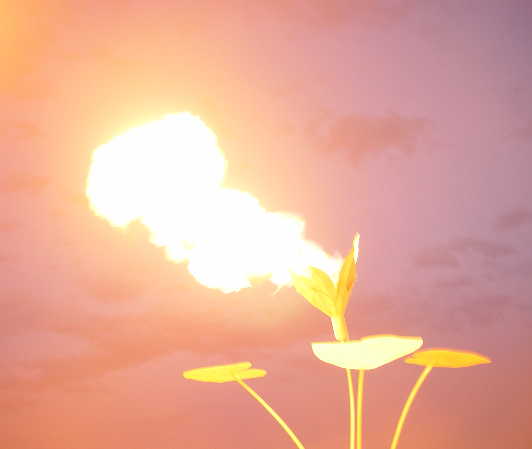 This flower was 16 feet high and spewed a 20 foot blast of flame.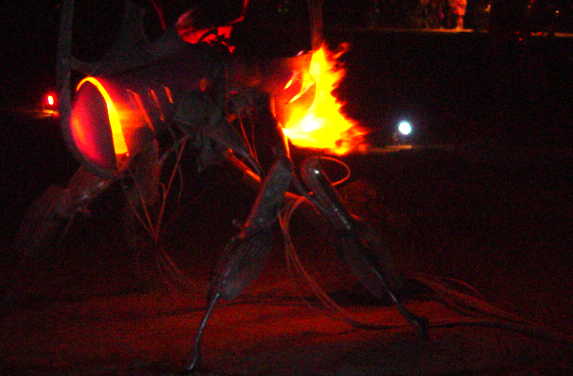 More tame, this locust? was pretty and dynamic, in a static way.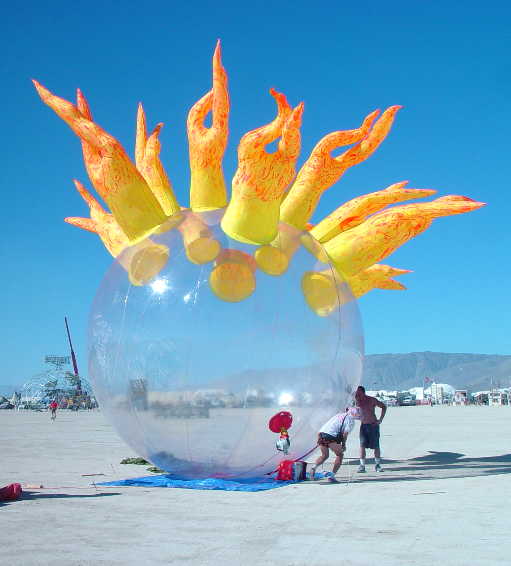 I am not sure what this was called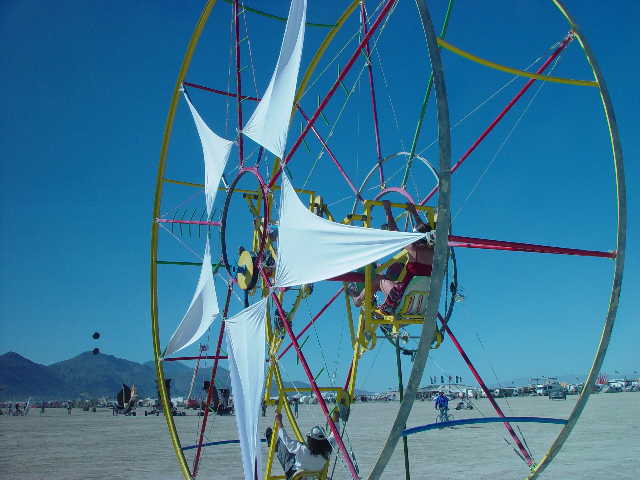 A three seated wheel within a wheel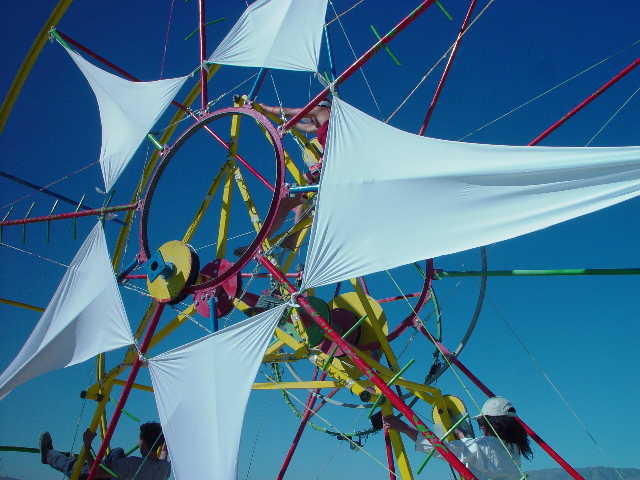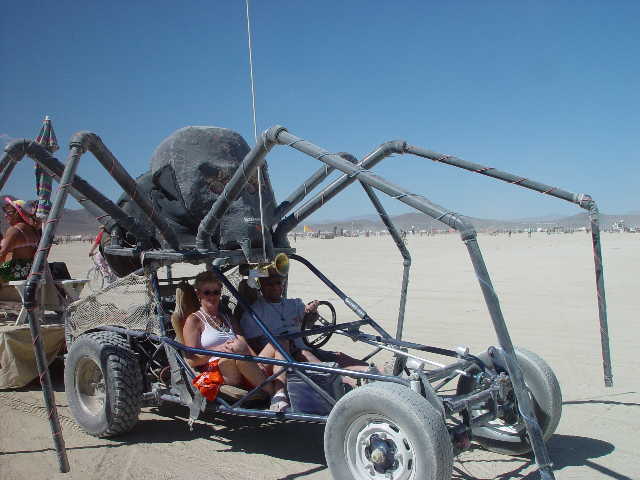 Ya gotta love the Black Widow...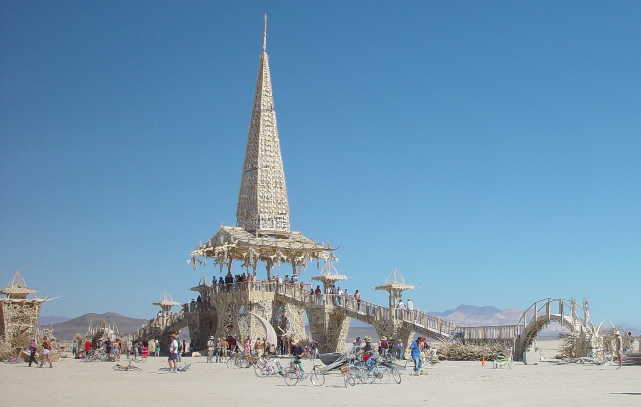 The Temple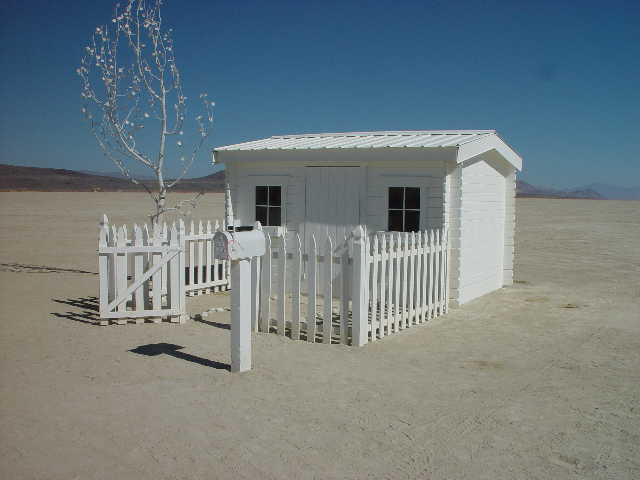 Little House on the Playa...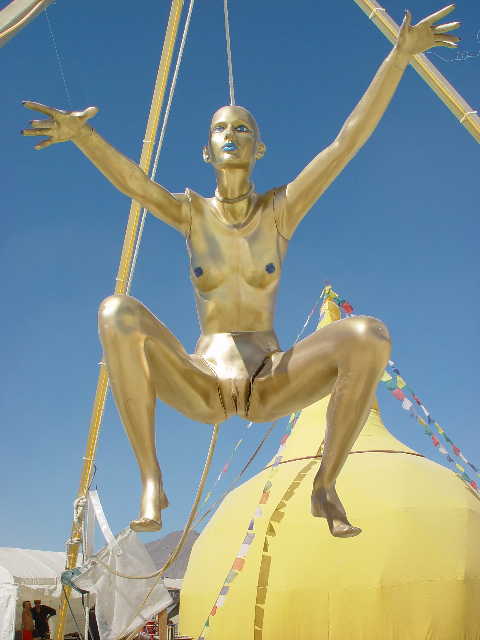 Brad's Golden Pond... er Golden Shower!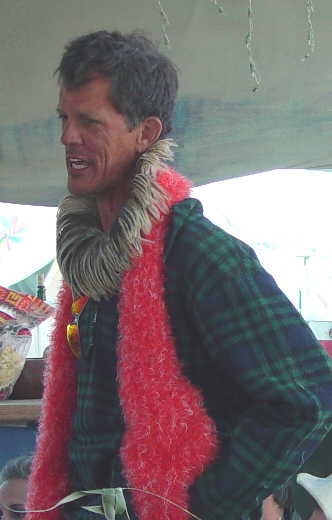 Jim Bowers - Lead Artist - Clueless Leader Nannette Scott - Project Superintendant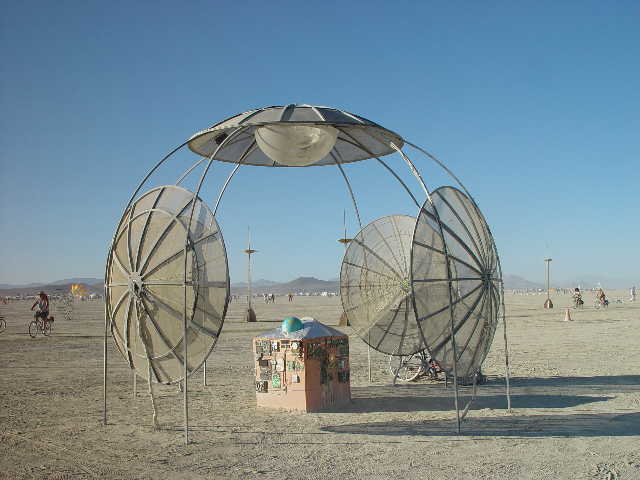 The Terrasphere - by day...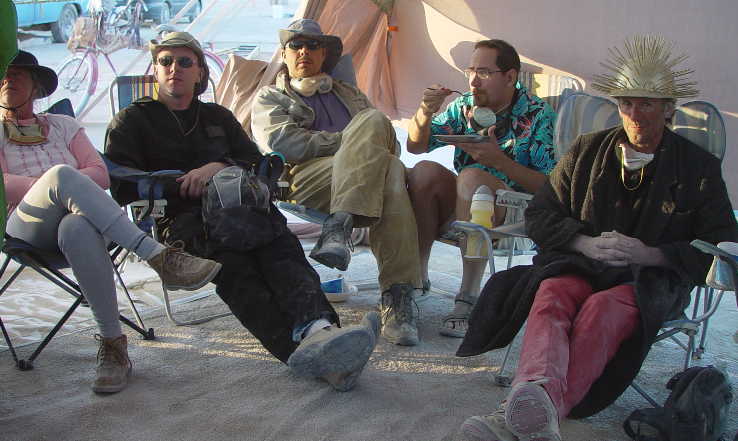 Can you pick out the code genius?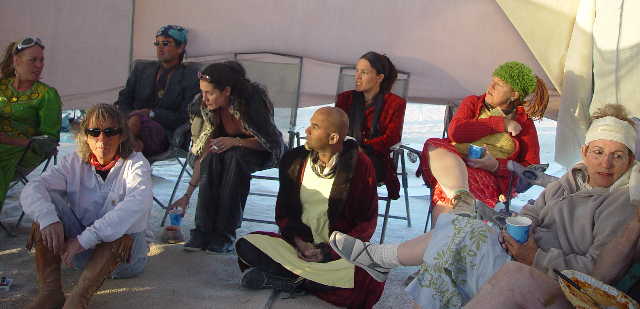 Jim addresses the Meeting of the Tribe.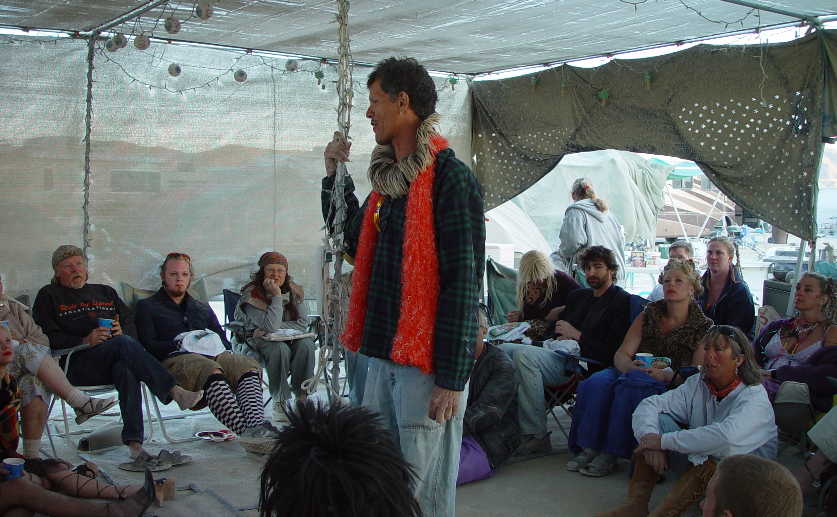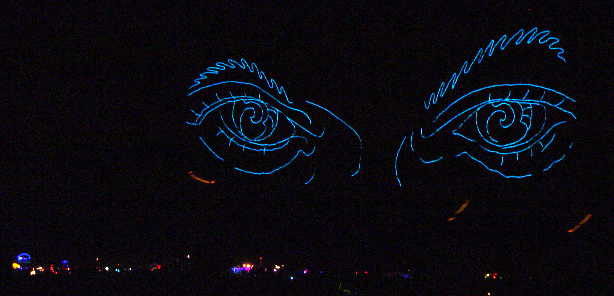 The Eyes of Gawd returned to watch over Black Rock citizens, with some new expressions.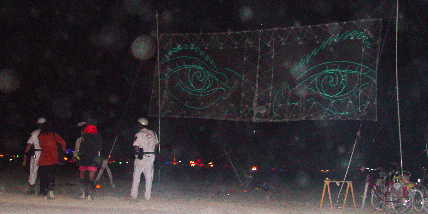 Displayed on the Esplanade most nights, when wind prevents flying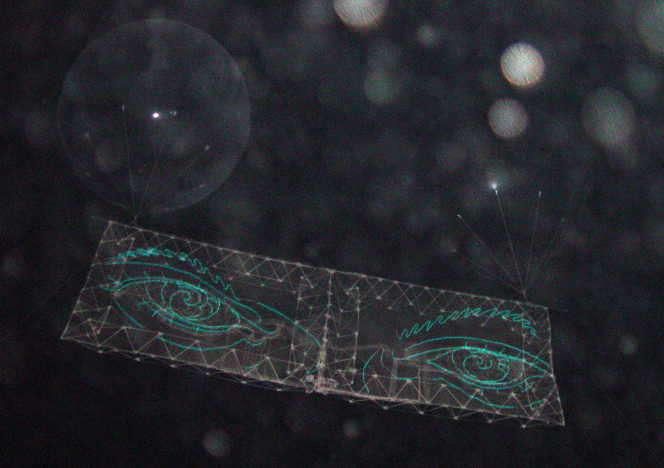 But Friday night was still, and the flight was long and successful.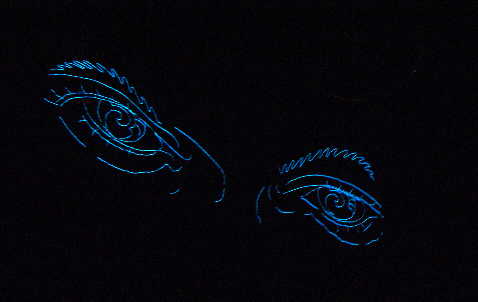 The Eyes of Gawd were awesome in the Black Rock sky as our crew toured them all over.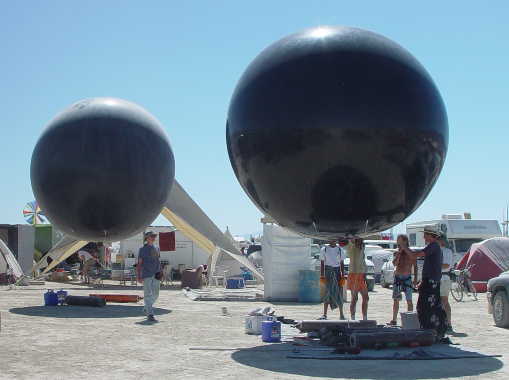 We had two balloons, but one got away when lines crossed.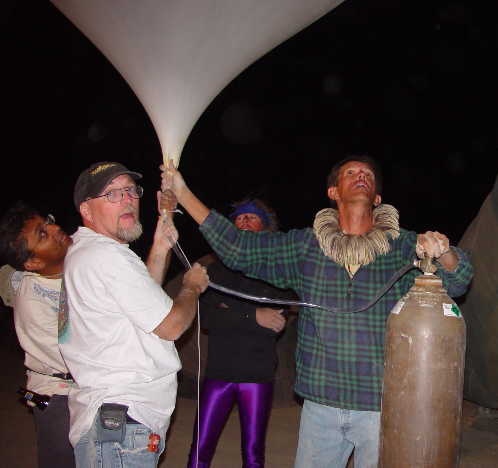 Bad luck with Balloons - This one burst shortly after this shot!
Night time the Man presides over the observatory.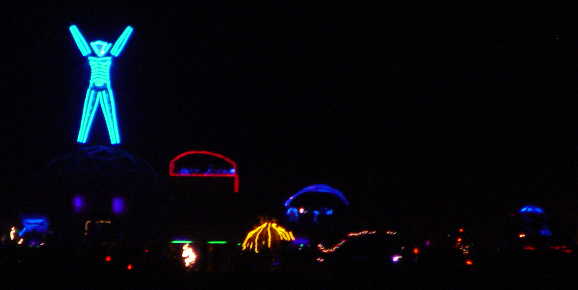 His arms are raised, ready to burn.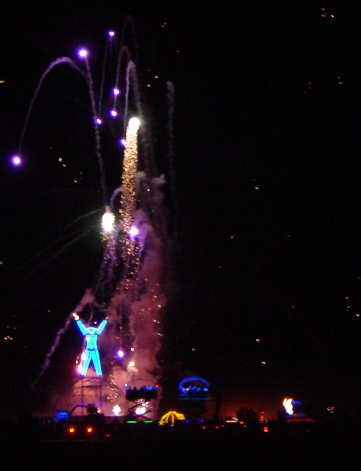 The fireworks erupt through the dome and off the Man.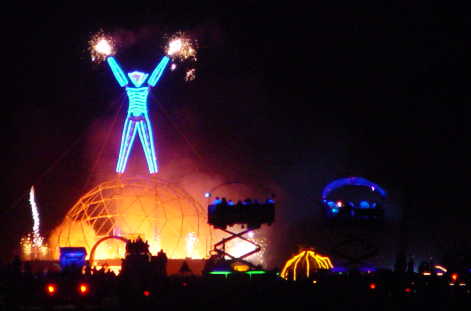 The fire starts...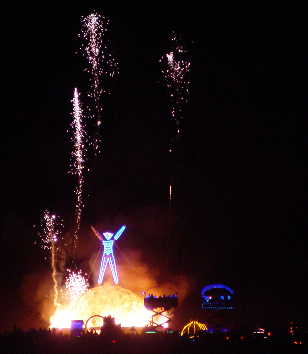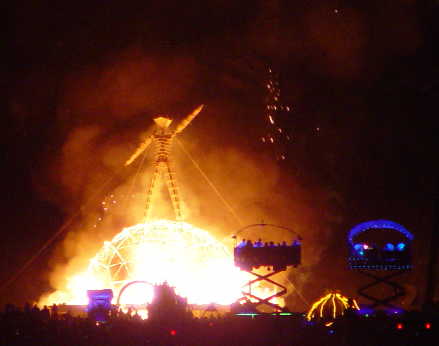 Wave by-by and burn, Man!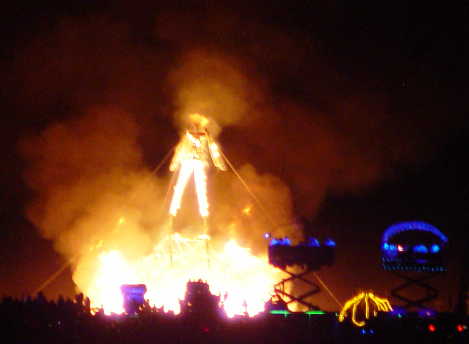 Going Down...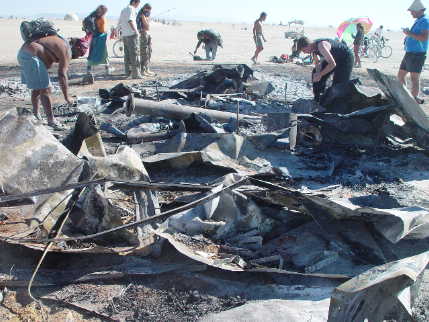 The Morning After.
All pictures property of John Dyer
Comments or questions? email me at jd3@johndyer.com
Links to other's photos
John Wendt:
Go to the Photos > Burning Man section of
http://www.skellington.com


Tristan has some great picts of Terra, EoG and the Golden Shower:
http://www.playa-dust.com
He also gave me permission to use the images on our eyeofgawd.com site.

Temple of Stars panorama
http://www.panoramas.dk/fullscreen3/f38.html
Requires free Quicktime plugin (http://apple.com/quicktime/download)

A well organized large selection of quality picts:
http://webbery.com/galleries/burningman/bm04/


http://www.heliphoto.net/BM/

http://www.chicagotribune.com/features/chi-0409230016sep23,1,7159206.story
(free registration required )


http://www.jordansplace.net/burningman/bm2004.html


http://crispyneurons.com/burningman/2004/0831.shtml


http://members.aol.com/sfritz2994/ppot.htm

http://home.comcast.net/~burningman/bman.htm


http://poeticdream.com/gallery.php?gid=211


http://forums.somethingawful.com/showthread.php?s=f827c9678e6c12e5db992c721eef704b&threadid=1107178&perpage=40&pagenumber=1


http://www.warmflatrock.com/twistedcat/2004/burningman/cd4/index.php

B&Ws
http://www.jonfoxphoto.com/bm2004


Very good archive
http://www.pbase.com/jcornice/bman2004


Some good photos
http://samskivert.com/gallery/burn2004
http://homepage.mac.com/dangreen/PhotoAlbum21.html
http://mvgals.net/gallery/Burning-Man-2004
http://wesley.smugmug.com/gallery/212089

One man's burn
http://photos.binaryfeed.org/burning-man-2004


Assorted
http://www.flickr.com/groups/49503173361@N01/pool/

http://mvgals.net/gallery/Burning-Man-2004

http://burningman.rgj.com/modules.php?op=modload&name=coppermine&file=index


http://naturalturn.fotki.com/bm/2004/

http://www.flickr.com/photos/gregveen/sets/10280/


http://imageevent.com/jameslathrop/burningman2004

http://www.phidelity.com/ph2/album38?page=1


http://imageevent.com/pmattf/burningman/burningman2004;jsessionid=y7rofa36j1.buffalo_s


http://burningman.rgj.com/modules.php?op=modload&name=coppermine&file=displayimage&meta=topn&cat=0&pos=10

http://www.worthynews.com/news-features/burning-man.html


http://users.easystreet.com/stuhler/


http://www.iow.com/bm04/
http://www.synaptick.net/2004-09-Burning%20Man/index.html

Secret Link --> Tribe Only Pix