John Dyer's
Tesla Coil Pages...
Please do not use photos without permission. Email me and we'll work it out. All Photos copyright John Dyer 2002

SparX Arcs - ARC shots only - Just the nice ARCs, no theory...

New! SparX Arcs II - More pretty sparx...

Tesla Coil Adventures - More technical - Parts and pieces...

The Chris Brick Coil - Work on the big one.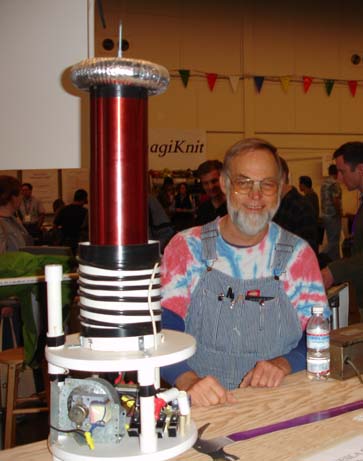 Old Jack SparX at the Maker Faire 2006
What fun showing people electricity!
This stuff is DANGEROUS! Don't try this at HOME!
To learn lots more about Tesla Coils, sign up for the mailing list, or peruse the archives at www.pupman.com This is a Tesla coil only list, and thorough reading and research is required. There are no ready to build plans, but you need to learn and read lots before you hurt yourself. These are SERIOUS sparks that can and have KILLED even experienced coilers. Read the safety section and study - study - study before you try building or using these devices.
The coil goes MOBILE! See the PortaCoil...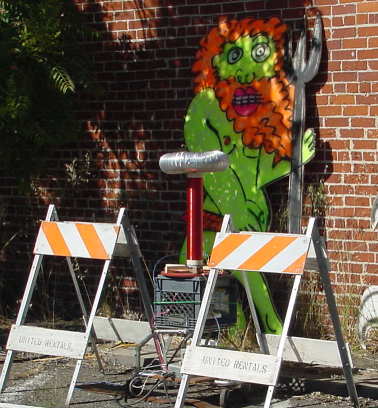 St. Patrick Coil! The biggest ARCS yet...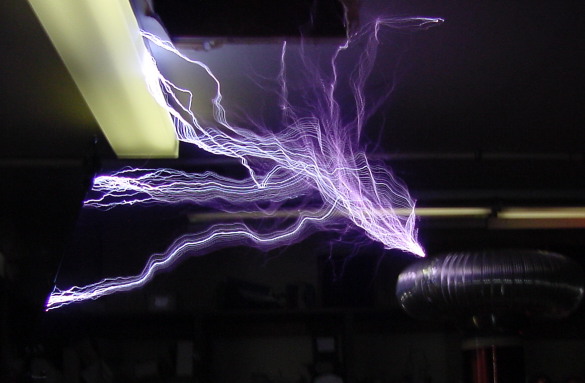 Arcs way too big for inside, I had to move it out to the shop area, before fire started!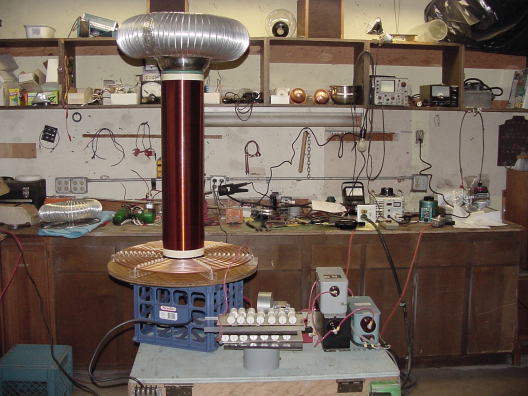 Last shots of the 6" experimental assembly inside. Check the story under
Tesla Coil Adventures below, and see the arcs under SparX Arcs.
SparX Arcs - ARC shots only - Just the nice ARCs, no theory...
Tesla Coil Adventures - More technical - Parts and pieces...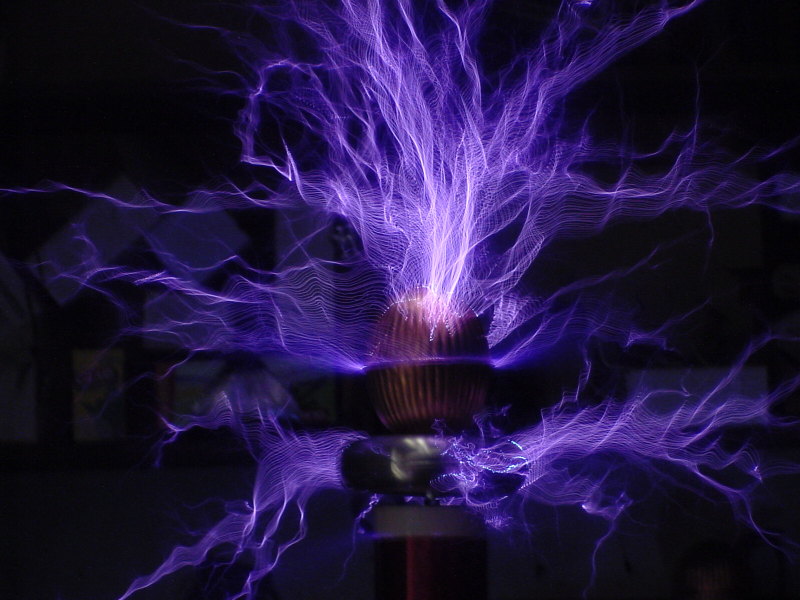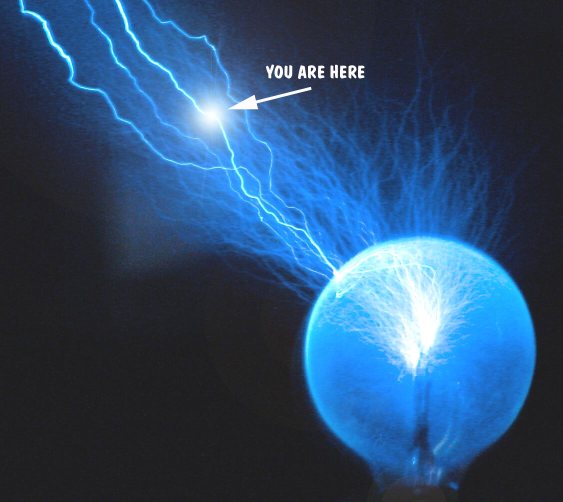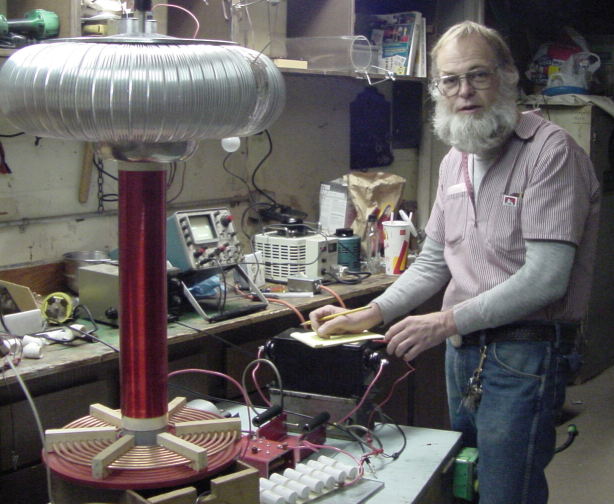 The mad scientist and 4" coil lash up. Nice 30" streamers.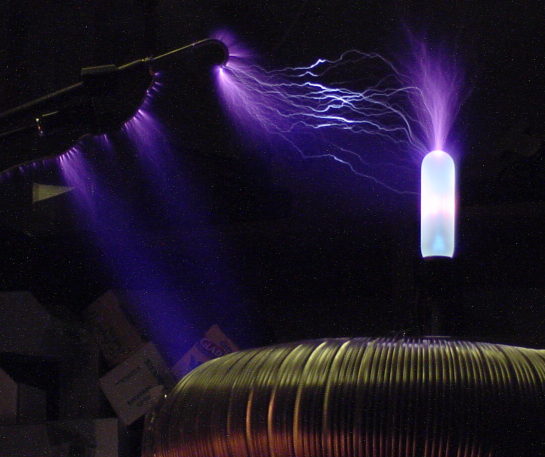 A light bulb as a topload, with the Toroid below it.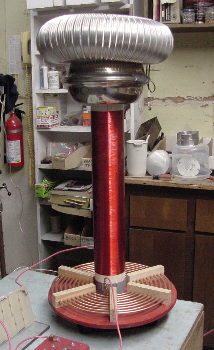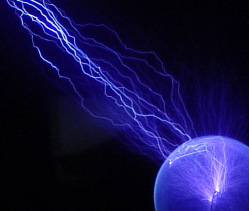 Some more nice arcs... Again the center of these is seemingly hotter than the ends...?
Most of these exposures were 1 to 4 seconds.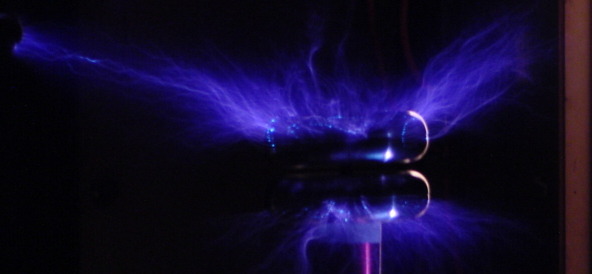 The first runs were made with the 2" secondary, and two new toroids from John Freau.
The toroids are beautiful! Smooth and classy. Here is a breakout to a ground rod.
Producing about 8 inches of arc. Streamers at 7 inches.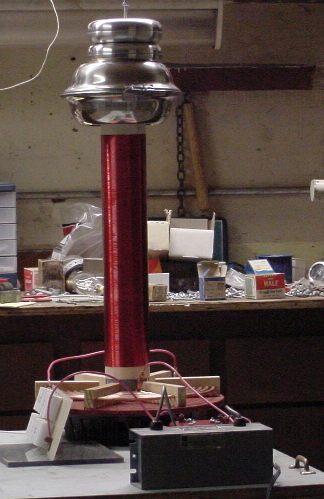 OK, now we're cooking! The secondary here is a 3.5" x 24? with about 950 turns of #24 wire. Primary and secondary by others. The primary is 12 or so turns of 1/4 inch copper tubing. This setup produced some great sparks, but the big toroid kinda sucked. Note the lip at center. Not only did coronal losses occur, but the electron streams are aimed right
at you, and your camera! The Sony memstick to 3.5 floppy adapter crashed, causing "disk error".
The inverted small toroids, with the 1/4 20 bolt sticking up, served as a nice bit of added capacitance.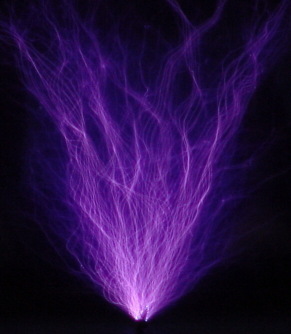 This was the discharge off the bolt, it looks like an electric brush. A great breakout point.



My First Little Coil...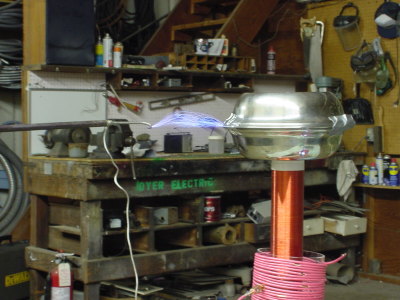 This is about a six inch arc from the setup below.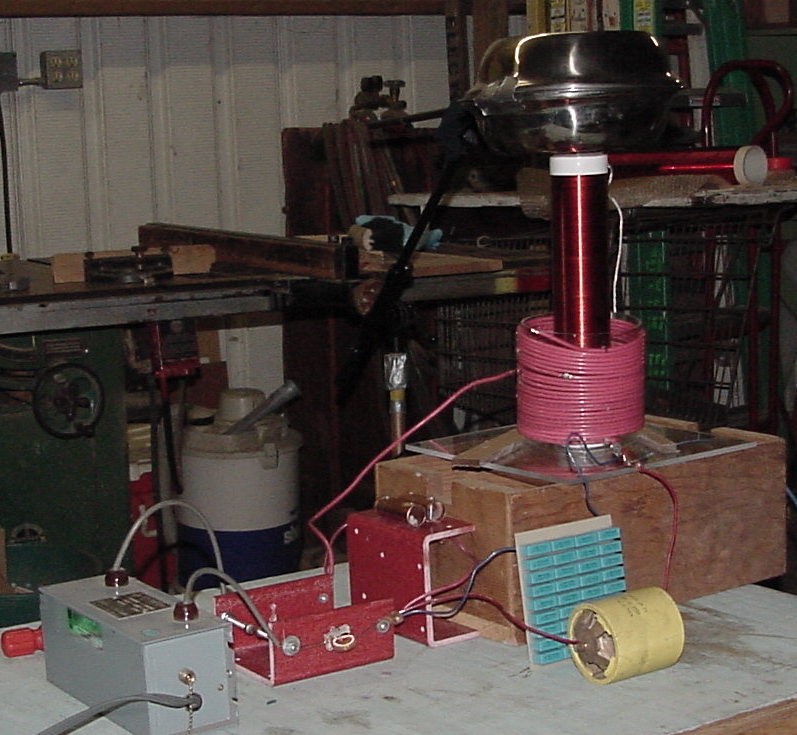 This is my early January coil. The Neon Sign Transformer is a 7,500 volts at 30 milliamps. The Caps are eight strings of four .0012 uf @ 2kv which if I figure right, comes out to .0024 uf in parallel with the big yellow cap, .0025 uf for a total of 4.9 nf or, .0049 uf or 4900 pf Check my figures! About .005 uf in the latest runs.

The little static gap, with about 1/4" spacing now.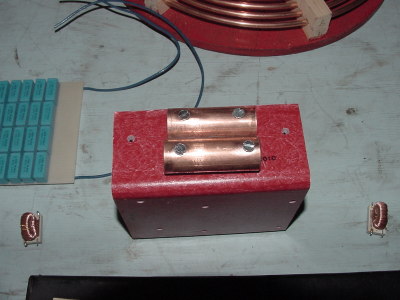 And lest we forget, it's all about length, right? Some nice little guys about 5"+

To meet the man behind the legend, or to
email me, go to
JohnDyer.com

reset 12-28-05