Hello, at the risk of repeating myself, I'm John Dyer...
.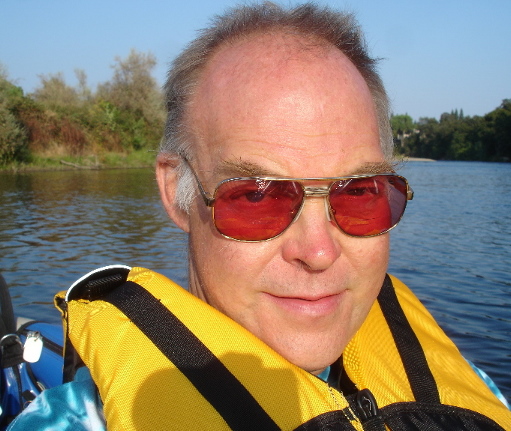 American River - September 2007
I have been married once, and divorced over ten years now. Spent most of that time working at varied careers, and taking care of my Mother, who died in 05. I am now almost 57, fit and young at heart. I seldom fit categories, and don't expect you to, either.
Some of my qualities are loyal, honest to a fault, curious, unique. I might listen to Jerry Garcia, Hank Williams, classical music, SF rock, or KFBK. My I pod is pretty diverse. I am kind of old fashioned, but open to weirdness. I play piano, and practice weekly in a garage band, that plays country, old rock, and popular tunes. I like water -- swimming, kayaking, sailing, boating and scuba diving. I used to have a really big beard and long hair, but not any more. I'm an old hippy, but don't smoke or drink much. Never smoked tobacco, but I may have a glass of wine rarely. Usually mixed with diet 7 up! I like technology and get along well with computers. I make big sparks, with my Tesla coils. I have gone to and made art for Burning Man. I like kids, and enjoy teaching. I have a spoiled cat, and think he's really great. He is sleeping on a table by me as I write this. His name is Puck.
I have my own home, am financially secure, manage my rental properties, and do a little electrical work. I have been a large electrical contractor, managed engineering for several radio stations, hosted a talk show on KFBK, was a news director for 104.3 The Breeze. These days I mostly manage and maintain my rental properties. I'm a photographer and love taking pictures of interesting things, and my cat, Puck. I have done and want to do more acting and play music. I used to be on the radio, and pontificate well in my areas of confidence.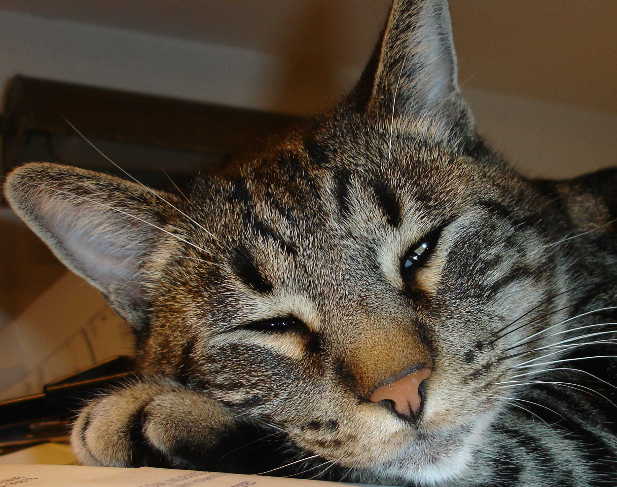 Puck, my kitty!
I am diabetic, but well controlled with meds and exercise. Food used to be my greatest addiction, and I used to be heavy, but now am normal weight and pretty healthy.
Who do I think I am looking for? A friend to share chuckles, triumphs and failures with. A thinker, someone who reads, and can discuss the day's news. Maybe a little geekish, enough to like computers. Physically close to normal, healthy enough to enjoy hiking, swimming or bicycling. Younger than me? OK. Responsible and caring count big time. I am open to long term relationship, as the ads say.
You know, I hate this kind of inventory description stuff, but ya gotta start somewhere, and I don't do bars. Maybe I should, but I did plenty of drinking when I was an immortal youngster. So what do I do? Should I buy you dinner, or coffee? Or would you rather take a walk, or look at my pictures? Would you like to tell me who you are? Send me an email and tell me about yourself.
Dig deep on my web page, www.johndyer.com and see who I think I am, and some of my pictures that I love to take.
Send me email by clicking here - jd3@johndyer.com.
Call me if you like, (916) 927 4201 or my cell is (916) 869 2648
I would like to hear from you, if you think we may have some fun together. Don't be shy, take the shot and call or write! Who knows what it may lead to. I am kind, I don't bite, and won't be mean!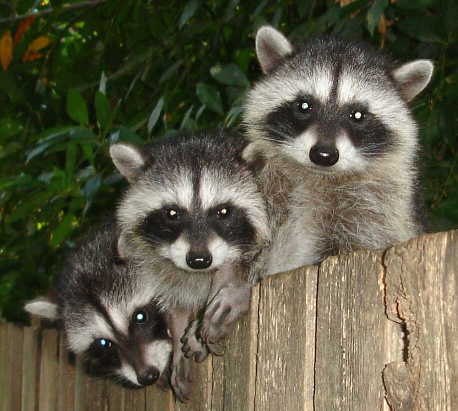 Picture from my backyard of the coon family that lived here last summer.
Cheers -- I'm John Dyer